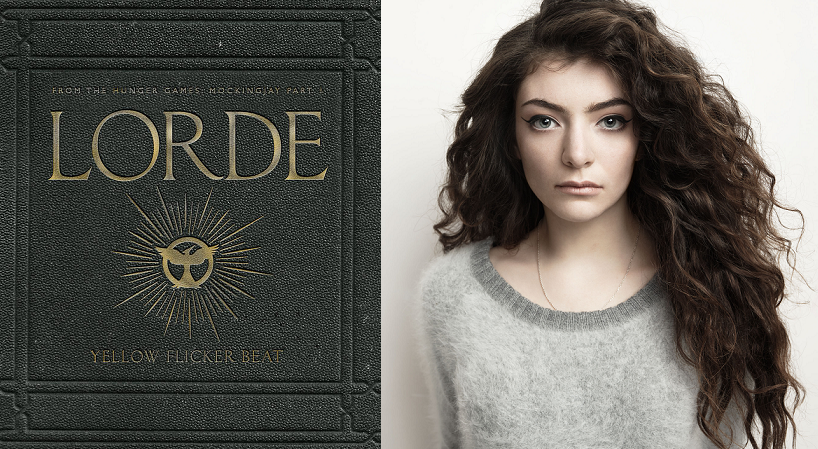 Lorde has spoken to KROQ about writing Yellow Flicker Beat and curating the soundtrack as a whole. Lorde in the interview talks about the point of inspiration from book for the song (major non reader spoiler cant imagine Loinsgate is happy about her saying that on air) Yellow Flicker Beat and the responsibility of being asked to curate the soundtrack.
The past year has been a whirlwind for the 17 year old musician, who's recently taken on a new task as well: curating movie soundtracks. Lorde also put pen to paper and created her own song for the soundtrack as well, titled "Yellow Flicker Beat."

"Basically I wrote the song specifically for the movie, it wasn't something that I had to draft up previously. I reread the books, and I just wanted to tap into everything that Katniss is feeling in that film and what's the crazy stuff that goes on. One of the things that happened in the book which to me felt like this crazy turning point was her best friend Peeta tries to kill her, he's been brainwashed and tries to strangle her. It just felt like something so irreparable and something that the characters couldn't turn back from. I felt like Katniss was like 'okay, I'm taking names. I'm coming for blood. You don't do these types of things to my friends and family and get away with it.' I just wanted to make something kind of dark and haunting."

"It's weird because everything that the character could think or feel is already kind of laid out for you in the book. You can't take that many leaps, it becomes your song and not their song so it was definitely about keeping in that mindset and just thinking about 'What would Katniss do?,' but she's such an awesome character to write for and it was such an awesome experience. There couldn't have been a better character for me to write from the perspective of."

On curating 'The Hunger Games: Mockingjay – Part 1′ soundtrack:

"I got approached to curate the soundtrack a few months ago and I was like 'OK, this sounds super fun but super hard… which was pretty accurate. It's been a crazy process, super intense."

"No one gives some random 17 year old from New Zealand the opportunity to soundtrack a major motion picture… It's been very cool and I'm so glad that I've had the opportunity."

"I'm so stoked that people feel comfortable giving me these responsibilities and it helps me to grow. It gives me different experiences that I just wouldn't have so you know, I'm so happy. It's so awesome, I'm so lucky."

The Hunger Games: Mockingjay Part 1 original soundtrack is expected in stores this fall, in advance of the film's release on Nov. 21.
If you want to listen to the Yellow Flicker Beat again here it is
For the full Lorde audio interview go to KROQ.
Source: KROQ